LSM E-News ~ October 2020
LSM Class of 2021 Experiences Economic & Workforce Development in Southern Maryland
On October 1, 2020, Leadership Southern Maryland's Executive Program Class of 2021 held its first of nine program sessions to learn about economic and workforce development in the tri-county region. The program was sponsored by Calvert County Department of Economic Development, Charles County Economic Development Department, and St. Mary's County Department of Economic Development. Ruthy Davis LSM '14, director of regional workforce and business development for Tri-County Council of Southern Maryland was the advocate for the session and planned the day's events.
The day opened with a panel discussion featuring the economic development directors from Calvert, Charles, and St. Mary's counties (Kelly Robertson-Slagle LSM'10, Darrell Brown, Chris Kaselemis). The class then explored the topic of creating entrepreneurial communities with Wynne Briscoe, director of the Southern Region, Small Business Development Center; Hugh Burrell, director of the Velocity Center at Indian Head; and Matt Scassero LSM founding sponsor and director of the University of Maryland Unmanned Aerial Test Site. The morning also included Ellen Flowers-Fields LSM'09, associate vice president of Continuing Education & Workforce Development, College of Southern Maryland who gave a presentation called "Getting Southern Maryland Back to Work."
In the afternoon, the class delved into workforce development including virtual tours of The Charles County American Job Center and the JobSource Mobile Career Center. The day concluded with Pam Wilkerson LSM'19, workforce operations manager from the Tri-County Council of Southern Maryland briefing the class on soft vs. hard skills.
LSM Emerging Leaders Program (LEAP) Class of 2020 Explores Resiliency, Conflict, & Change Management in Southern Maryland
On September 25, 2020, Leadership Southern Maryland's Emerging Leaders Program (LEAP) Class of 2020 held its fifth of six program sessions.
This hybrid program day (half in-person, half virtual) began with a meeting at Hallowing Point Park in Prince Frederick. Those who were unable to attend in person participated via live stream. The day kicked off with a discussion on resiliency and stress management with Jennifer Voorhaar, Owner/Therapist, Hope and Healing Psychotherapy, LLC. The program continued with a hands-on meditation session, led by Tim McMichael, Certified RYT 200-hour yoga instructor and leader at Naval Air Systems Command (NAVAIR). This included a discussion on how meditation, and the discipline it requires, can help change one's mindset in leadership. Afterwards, there was a panel discussion with Calvert County leaders, Dawn Balinski, board member, Calvert County Public Schools; Mike Benton, mayor, North Beach; and Lt. Col. Dave McDowell, assistant Sheriff, Calvert County Sheriff's Department.
After lunch, the group met virtually for the remainder of the day. The afternoon portion was led by Whitney, Bradley & Brown (WBB) Culture and Development team, David Jurkowski and Kelly Jasen. The discussion centered around navigating conflict and organizational change, including learning how to identify one's core issues and how they are triggered when stress and anxiety levels increase.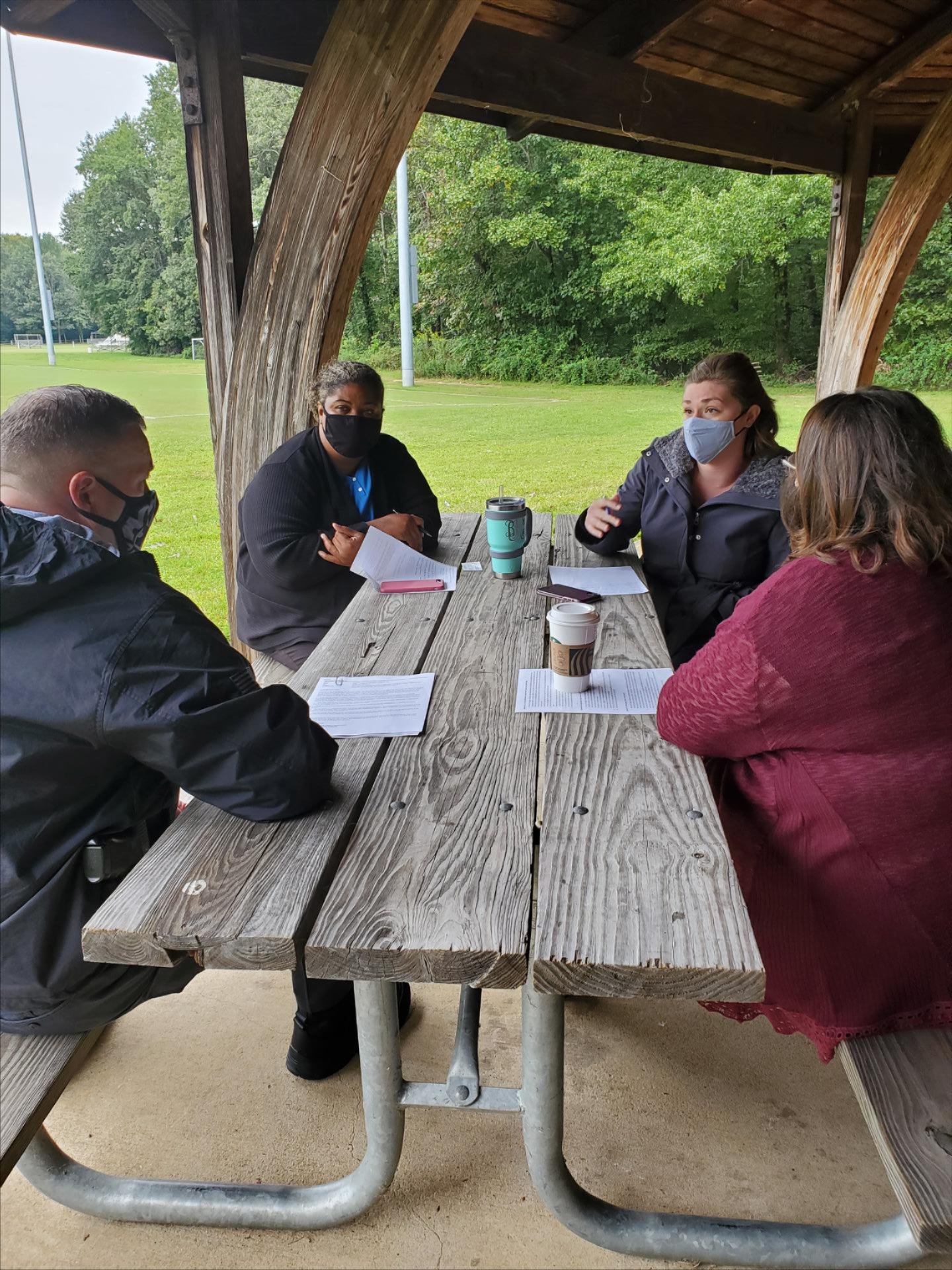 LSM Class of 2020 Experiences Energy & Environment in Southern Maryland
On October 8 & 9, the Leadership Southern Maryland (LSM) Class of 2020 participated in the last of nine educational sessions for LSM's 2019-20 Executive Program - Energy and Environment.
The two-day event began at St. Mary's County Metropolitan Commission's Marlay-Taylor Water Reclamation Facility where the class received an overview of Metcom's operations, learned about the wastewater treatment process, and toured the on-site lab which conducts water quality testing and analysis. The afternoon portion of the session was conducted virtually, allowing class members to hear from representatives of Exelon's Calvert Cliffs Nuclear Power Plant and Southern Maryland Electric Cooperative (SMECO). These presentations provided an overview of energy production in the region and gave the class insight into the organizations' leadership structures.
The second day began with a visit to the Loveville Produce Auction, allowing the participants to experience "commerce in action" while observing interaction of the Mennonite and Amish agricultural community with local restaurateurs, grocers, and individuals who purchased from their harvests. Several class members got in on the bidding action, taking home pumpkins, floral arrangements, and other seasonal produce. The participants then traveled to Farming 4 Hunger where they had an opportunity to learn about the farm's origin story, mission, and daily operations. The class also participated in several team-building activities to help them gain a fuller understanding of the impact of the organization and its programs on a larger scale.
If you missed virtual LSM Homecoming, you missed out! The event was hosted by the Leadership Southern Maryland Alumni Association on October 1st. Graduates from far and near gathered together to "meet" the newest class, toast the Class of 2020, the "longest class ever," and discuss a month-long campaign to give back to the community.
Homecoming may have lasted for only one evening but the LSM Gives Back Challenge continues all month long! Your class can earn bragging rights for topping the charts with the most giving points. Check out the LSM Gives Back section below for more details!
October LSM Gives Back Challenge
You can earn points by participating in the following ways:
Supporting the weekly challenge and supporting LSM's mission

Donating any of the items on the wish lists for SOMD Food Bank or SOMD schools

Giving of your time, talent, or dollars in any manner

All instances of giving back count for 1 point towards your class's total
Email Christa Hood whenever you give back! Pictures are welcome!
For more information on collection points, weekly challenges and donation suggestions, go to https://www.leadershipsomd.org/homecoming/
Nonprofits in Need of Support
Looking for more ways to support your community? The following opportunities are available. For more information, reach out to the organizations directly or contact Robin Finnacom, coordinator, Nonprofit Institute, College of Southern Maryland.
LEAP 2020 - Capstone & Graduation October 23, 2020
Executive Program 2021 - Defense: November 5, 2020
Executive Program 2020 - Closing & Graduation: November 19, 2020
!!! As a reminder, for the health and safety of our participants and staff, access to LSM program sessions will be limited to class members, staff, and scheduled speakers and participants !!!
Our Contact Information
*{{Organization Name}}*
*{{Organization Address}}*
*{{Organization Phone}}*
*{{Organization Website}}*

*{{Unsubscribe}}*